[2023]"Coding Quest" Summer Camp for Young Explorers
[2023] "Coding Quest" Summer Camp for Young Explorers 


2023 Coding CAMP : JUNE 26 - JUNE 30 (10 Sessions: In Person)
Join our Fun and Exciting, and Educational Coding Camp for Young Coders!
A great way for your child to learn new skills and explore their interests.


Coding is an essential skill for the future, and your child will benefit greatly from learning it.

One month is a good length of time for your child to get some basic experience with coding. 

Look for a class that offers age-appropriate curriculum and has experienced teachers.

Make sure to ask about the class size and if individual attention will be given to your child.

Encourage your child to practice coding outside of class to reinforce their learning.

Consider enrolling your child in additional classes or programs if they show a strong interest in coding.

* Click ' Tickets' button and choose the class for registration *
* Please leave your kids name and grade(age) *
email:fairfax@myrobothink.com
- Class Schedule Guide -

    Session 1 : "Coding Quest" Summer Camp for Young Explorers:
    Date : June 26th- June 30th 

    Time : 9:30AM - 11:30AM


    Session 2 : "Coding Wizard" Summer Camp for Magical Coders :
    Date : July 3th - July 7th

    Time : 9:30AM - 11:30AM


    Session 3 : "Coding Venture" Summer Camp for Junior Coders:
    Date : July 24th- July 28th

    Time : 9:30AM - 11:30AM



Attention all Parents and Guardians! Here is Coding Classe for future innovators!
Give your child the gift of a brighter future by enrolling them in our Robothink McLean Discovery Center's Spring Limited Session for Rocode Coding Beginner and Intermediate coders Class!
For this Summer, this limited session will introduce your child to the world of coding and provide them with the essential skills to succeed in the future job market. Our experienced instructors are passionate about teaching kids how to code and will guide them through this unique learning experience.
In our Coding Beginner class, your child will learn the basic block coding, including how to write code, develop algorithms, and create simple programs and exciting Video games and more with our unique and fun coding program. This class is perfect for kids who are new to coding and want to develop their skills in a fun and engaging environment.
Our program is designed to challenge and inspire kids to develop their problem-solving, critical thinking, and teamwork skills. With our unique coding program, your child will have the opportunity to work on exciting projects that will challenge their imagination and creativity.
Whether your child is a beginner or an experienced coder, our program is suitable for all ages and skill levels. Our small class sizes ensure that every student receives personalized attention and hands-on experience.
I would be delighted to consult with you about your child and their interests in coding and robotics. Please feel free to contact me anytime, and I'll be more than happy to discuss how we can help your child unlock their full potential in these exciting fields.   
Email : fairfax@myrobothink.com 

Phone : 571-439-1433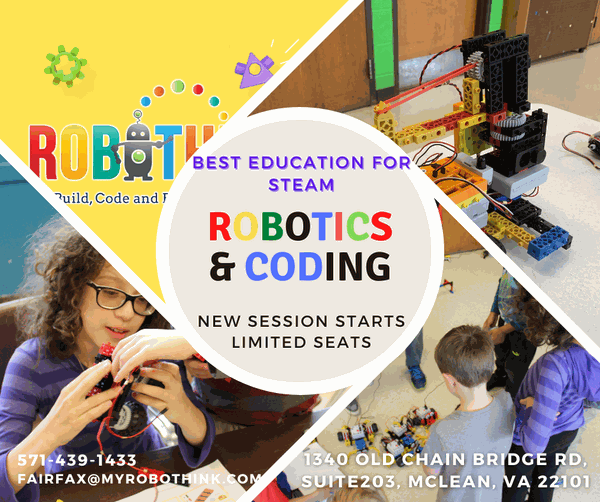 -----------------------------------------------------------------------------------------------
Robothink Coding Class - McLean Discovery Center
 - Beginner

 - Intermediate

 - High-Intermediate
* Please note that our center is currently working on preparing higher and more diverse coding & robotics classes that will be available soon, so stay tuned for updates!