[2023] Summer CAMP_Epedition Mars(week1) AM

ROBOTHINK Summer ENGINEERING Camp 2023
This class for McLean Center. -In person/Hands on Class

l Monday – Friday : (3hours a day /5days a week)
 > Weekly based different theme program <

l    AM Class : 9:00AM - 12:00PM
l    PM Class : 12:30PM - 3:30PM 


Limited Seat!!
Ø Camp : June 26 – Aug 04
Ø Ages : 7 ~ 14


WEEK 4 - June 26 - June 30 (AM Class)


Expedition Mars Engineering CAMP!
Blast Off with RoboThink!
Inspired by popular movies, NASA and space travel! Come on an adventure building functional robots using unique RoboThink bricks in this super-fun program.
Kids will learn about space, space travel, stars and gravity, all while building a variety of interstellar robots and learning some entrepreneurial skills along the way!
Your child will have a blast exploring the world of robotic technologies as they build, learn, and play.! 


If you register full time class, kids will be stay here during the lunch time.


Call or email us with any questions you may have!!
    Email : fairfax@myrobothink.com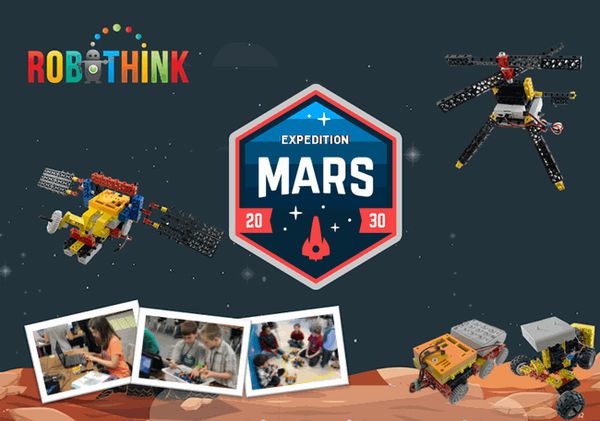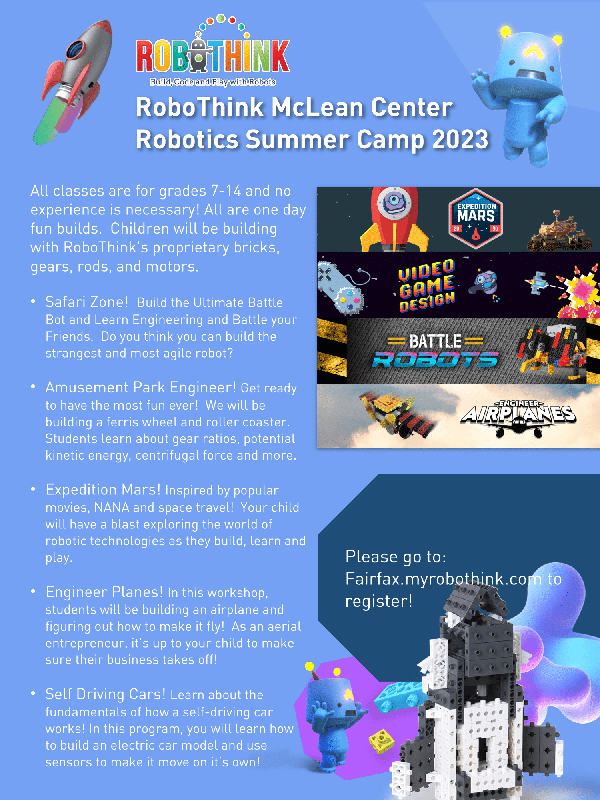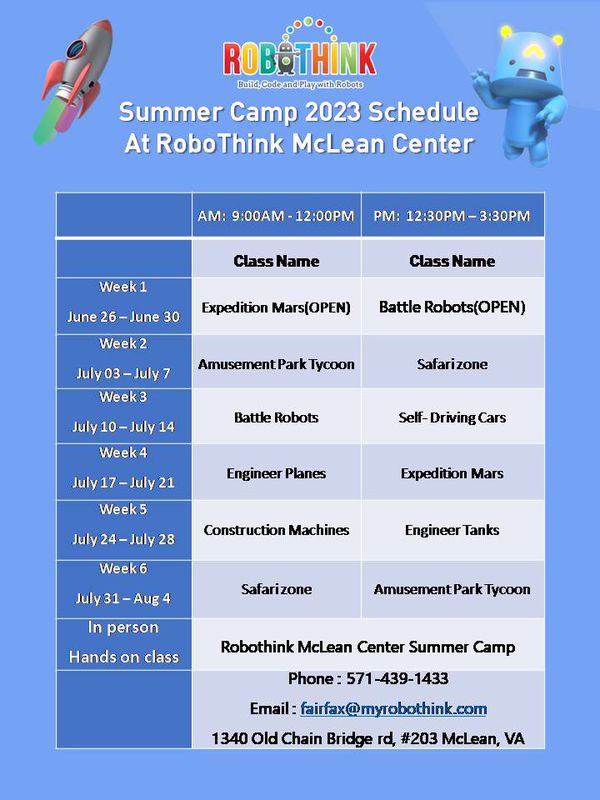 Robothink Robotics Summer Camp Level


| | |
| --- | --- |
| Class Name | Level |
| Battle Robots | Beginner : Level 1 |
| Amusement Park Tycoon | Beginner : Level 1 |
| Expedition Mars | Beginner : Level 2 |
| Self-Driving Cars | Intermediate : Level 3 |
| Safari Zone | Intermediate : Level 3 |
| Engineer Heavy-Duty Construction Machine | Intermediate : Level 3 |
| Engineer Tanks | Intermediate : Level 4 |
| Engineer Plans | Intermediate : Level 4 |