Robotics Spring Camp 2022 Afternoon Class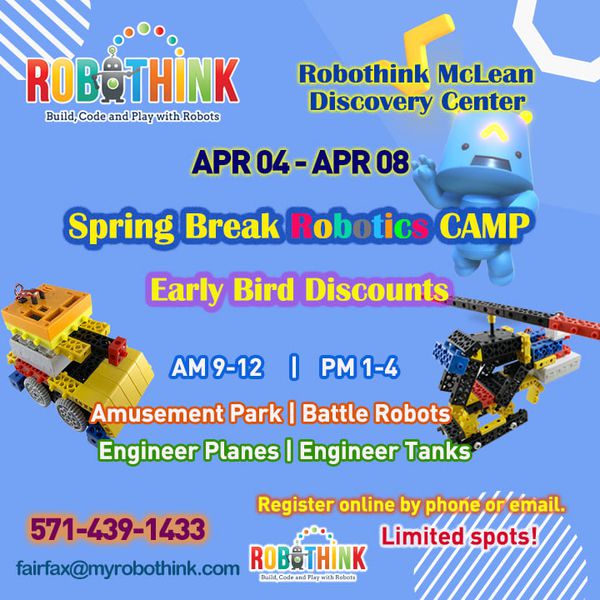 Time : 01:00PM - 4:00PM
Programs : 
           Battle Robots 
Throughout history, people have competed against each other in something,
Whether it's "who can run the fastest" or "who can stay tied to a goat the longest?"
competition is hardwied into us all. We all want to the best!
Today we are going to test out our racing skills as we weave through our track
and we race to the finish!
 -  All ages students can enjoy this class .
 - One of the most popular class of all students.
 - Exciting game and racing with their own robots.
         Engineer Tanks

Car Manufacturers?
That's right! During wartime, car manufacturers switched to making tanks instead of making cars! 
These brands include Chrysler and Porshe!
The Original Tank
Seriously, people used to use elephants in warfare.
Could you imagine an army of mounts riding on elephants coming at you?
No Thank you!
-  Intermediate Class, upper grade studetns ( recommend )
-  Various Robot Tanks Directions

10% OFF Early Resistraion By March 25

Discount Code : SPR22MCL10

Students can choose one of the programs.
Please call me to save the seat for the class.
phone : 571-439-1433
email : fairfax@myrobothink.com